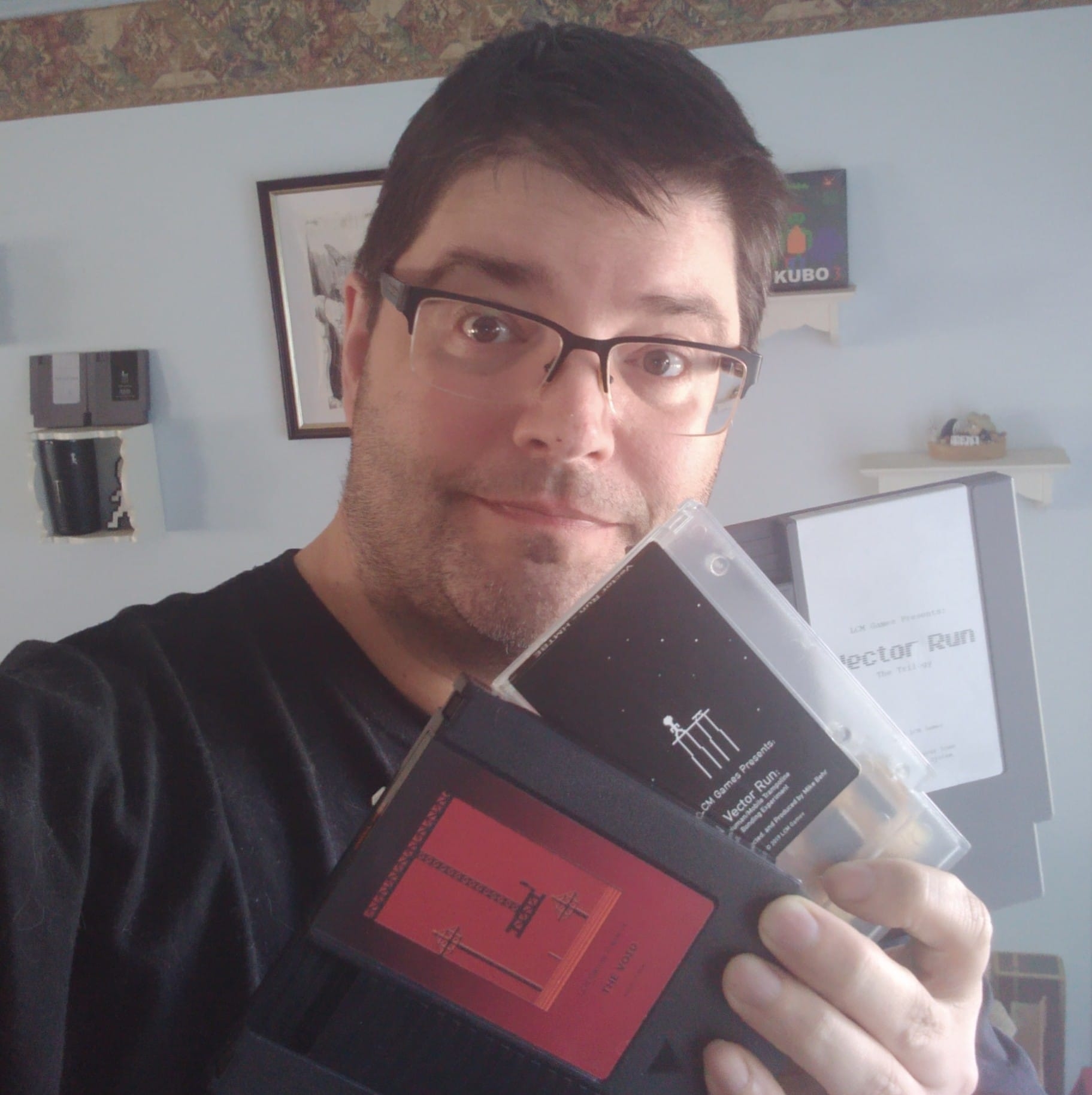 Mike Behr aka LCM
Hi! My name is Mike Behr, and I enjoy coding, making games, making music, and I'm usually working on some kind of project, so keep visiting as this site will be updated regularly with new content.
LATEST NEWS:
9/10/2021:
VECTOR RUN: THE REMAKE - AVAILABLE TODAY!
The remake of Vector Run is now available to download! It will require a NES emulator or hardware that allows you to play homebrew roms on the NES. The game is 100% free to download, and if you feel it is worth something, you are more than welcome to make a donation by following the link at the bottom of the site.

Download The Game Here
8/6/2021:
VECTOR RUN: THE REMAKE
As mentioned in the Found Footage video, an official remake to the Vector Run NES game is currently in development and will be available in September which is the month the original game was released on 3 years ago. It contains too many improvements to mention, some new secret areas, and new modes that can be unlocked as well... coming soon!
2/22/2021:
VECTOR RUN MINI
The sequel that should never have been made has been made. I never planned on making another Vector Run game after the Trilogy and the Trampoline game, but then I learned about a program called GB Studio that allows you to make games that work on real Gameboy systems... I started playing around with that, and yadda yadda yadda Vector Run Mini for the Gameboy was made, a new original Vector Run game! This will be the last Vector Run game, and this time I mean it!
You can play it right here in your browser, or download the rom in The Game Cave.

Play In Your Browser Here
11/28/2020:
Heyo! Updates galore!
DOMAIN CHANGE:
If you can see this site, then congratulations and welcome to the site's new home at lcmgames.com!
GAME CAVE:
Some major changes have been done to the Game Cave. Instead of hosting the games on my site, the Cave now leads to my itch.io page. Believe me, it's easier for all of us to do it this way... the games can still be played in the browser, and there is even a new game in there called "A Simple Platformer Game". Other than that, I hope everybody is having the best year they can make it, and have a great holiday season!
12/21/2019:
To commemorate the winter season, here is me doing a live speedrun of the very wintry "Cliffhanger" for the NES as part of a stream to raise money for Children's Hospital of Wisconsin... truly one of the greatest games ever made...

Watch Video


Welcome To My Jukebox
Here you can listen to some of my music and DJ mixes.
Choose a playlist or song and enjoy some background music as you browse the site.
DISCLAIMER: The DJ mixes are not meant to cause any copyright infringement. They are available for free and made strictly for the purpose of sharing the music.
The music will continue to play if you click out of the jukebox. That way, you may have background music to listen to if you want to visit the game cave. It will continue until you stop the music on the jukebox.
Welcome To My Game Cave
My games are available to play and download here:
Enter Game Cave
My games are made for the original NES and Gameboy systems and can be played in most emulators and NES/GB flash carts. They are also available to play in your browser as well.
Except for Vector Run Mini, the games are not available to play on mobile devices, but the game file can still be downloaded and played on your favorite mobile NES/GB emulators.